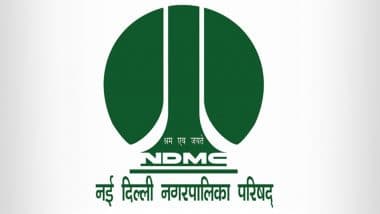 Delhi Municipal Corporation (Photo credit: Wikimedia Commons)
New Delhi, May 10: The Aam Aadmi Party (AAP) said in a statement on Sunday that 23 patients were missing from the Municipal Corporation of Delhi Hospital. Not only that, the team said it was not even aware of the MCD. Durgesh Pathak, in-charge of AAP's municipal corporation, said that North MCD mayor Joy Prakash had lied that he had given information to the police about it, adding that no such complaint had been lodged.
According to the AAP, the BJP's MCD has about 4,000 beds, but they have barely provided 200-250 beds for Delhiites. However, the BJP's MCDO is unable to keep their accounts. AAP leader Durgesh Pathak quoted MCD patients as saying, "Today there is a report that 23 patients are missing from MCD hospital. These 23 patients are not in the hospital and no one knows about them in the hospital." . " ALSO READ: Pedestrian shot dead in dispute between two sides in Greater Noida's Rabupura area
He said it was unfortunate that when the media came to know about it and when the media asked questions, the BJP leaders stopped lying. Referring to Hindu Rao Hospital, the AAP leader said that water was not available for the patients of the hospital and 23 patients have gone, where they are, admitted to any other hospital or wandering on the streets. And the Aam Aadmi Party has demanded stern action against the mayor who tried to confuse the people.