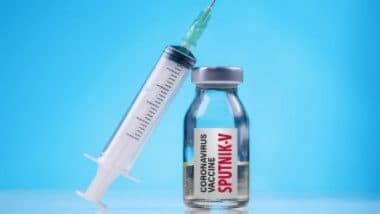 Photo Credit: File Image
Hyderabad, June 1: A consignment of 3 million doses of the Russian-made Covid-19 anti-vaccine Sputnik V was brought to Hyderabad's Rajiv Gandhi International Airport on Tuesday by a special charter flight. A press release issued by GMR Hyderabad Air Cargo (GHC) said that three million doses of Sputnik V vaccine arrived here from Russia at 3.33 am on a special charter flight R-U-4450.
Imports of large consignments of vaccines were also handled by GHC in the past, but the entire process of loading the largest consignment of vaccines to India, which weighs 56.5.6 tons, took less than 90 minutes. Sputnik V vaccines require specialization to be preserved. It is kept at a minimum temperature of 20 সেল C.
Also read- Country News. Delhi to get Sputnik V vaccine in June: Kejriwal
It is noteworthy that Dr. Reddy's laboratory has entered into an agreement with a Russian direct investment fund to sell 12.5 million doses of the Sputnik V vaccine in India. Dr. Reddy's laboratory has already received approval from the Drug Controller General of India for the urgent use of the Sputnik V vaccine.
(This is a monitored and automatically generated story from a syndicated news feed, probably not edited or edited by the latest staff)