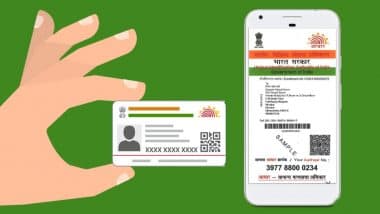 Aadhaar Card (Photo Credit: Twitter / File)
New Delhi: The Unique Identification Authority of India (UIDAI) on Monday issued an important statement for the convenience of millions of Aadhaar cardholders in the country. According to this, Aadhaar card holders, even if they are smartphone users, can now receive more than 35 services with one click. Sourav Garg has been appointed CEO of UIDAI
According to UIDAI (Unique Identification Authority of India), the 35 Aadhaar services include Aadhaar card download, Aadhaar card status check, Aadhaar card reprinting etc. These services are available online and will require internet on the smartphone.
In a recent tweet, UIDAI said that to get these benefits, a person must first download the MAADAR application on their smartphone. UIDAI said, "Get more than 35 Aadhaar services on your smartphone. Download Aadhaar, Check Status, Reprint Aadhaar, Find Aadhaar Center" "UIDAI's goal is to reach a large number of smartphone users through the mAadhaar app.
Get more than 35 Aadhaar services like Aadhaar Download, Status Check, Order Reprint Order, Aadhaar Center Search etc. Download on your smartphone # MAAadhar app From: https://t.co/62MEOeR7Ff (Android) https://t.co/GkwPFzuxPQ (iOS) pic.twitter.com/A5XA44qXtB

– Aadhaar (@ instructions) June 7, 2021
UIDAI also shared the link to download the M-Aadhaar app. Interested persons can download the MADAR application from Google Play Store and Apple App Store at the following link: Click the link for Android users: tinyurl.com/yx32kkeq iPhone users can click on this link to download the MAADAR application on their smartphone: https: com / taj87tg.
MAAD users can avail the featured services for themselves and others in need. The M-Aadhaar app has several Aadhaar card related services for smartphone users. In this application, Aadhaar cardholders can also save a soft copy of their Aadhaar, which can be effective in many of your places.