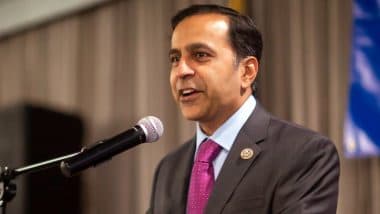 MP Raja Krishnamurthy (Photo credit: Facebook)
Washington, June 11: Indo-US lawmaker Raja Krishnamurthy says donating 500 million doses of 19 anti-covid vaccines around the world is not enough, the United States must do more to fight the epidemic worldwide. Before attending the G-7 summit in England, Biden on Thursday pledged 500 million doses of aid to accelerate the fight against Kovid-19 worldwide. British Prime Minister Boris Johnson later said the G7 countries were committed to providing at least one billion doses of the vaccine to other countries.
Krishnamurthy said, "I am happy that the United States will buy 500 million doses to support the global vaccination effort, of which 200 million will be given by 2021, but that is not enough. Will need to be increased and a few million doses will have to be provided.CoVID-19 will make the global fight against the epidemic more effective. Read more: Copa America 2021: Messi, Di Maria and Aguero in Argentina squad for Copa America
"America will buy 500 million doses of the anti-covid-19 vaccine from Pfizer and give them to the 100 countries needed to fight the epidemic," he said. This is a historic step. This is the highest amount of vaccine ever donated by any country. The president said the vaccines would be delivered to the needy countries from August. 200 million doses would be delivered this year and 300 million doses in 2022. America is contributing more than the country.