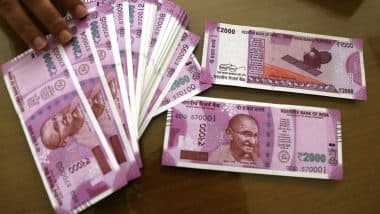 Rupee (Photo credit: PTI)
7th CPC News: The central government has further simplified the family pension rules for workers in view of the COVID-19 epidemic. The Department of Pensions and Pensioners Welfare (DOP and PW) has recently made a significant reform. Under this provision, provision has been made for temporary family pension to be approved along with submission of claim for family pension and death certificate by the eligible family member without waiting for other formalities and procedures. This provision applies to deaths during the COVID epidemic, the cause of death being due to COVID or non-COVID. 7th Pay Commission: Big decision regarding price increase allowance, lakhs of central employees will get such benefits
Pursuant to Rule 80 (a) of the CCS (Pension) Rules, 1972, a temporary pension may be granted to a deserving member of the family after the death of a government employee, while the matter of family pension is transferred to the salary and account. Office. Sent.
However, in view of the ongoing epidemic, upon receipt of a claim for family pension and death certificate by any eligible family member, instructions have been issued not to send the matter of family pension to the pay and accounting office, a temporary family should approve the pension immediately.
Similarly, another important reform recently announced considering the issue of coronavirus infection, provides that the temporary pension will be paid with the consent of the PAO (Pay and Accounts Office) and approved by the head of the department. Modern retirement can be done for one year from the date of retirement.
Under Rule 644 of the CCS (Pension) 19 1972, if a government employee retires before his / her pension is finalized, the temporary pension is generally granted for six months. However, in the face of the Covid epidemic where there is a delay in submission of paperwork, instructions have been issued to provide temporary family pension under Rule 644.