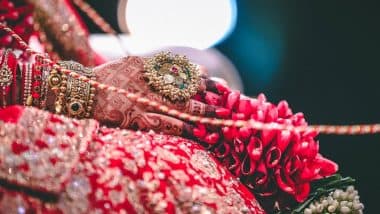 Iconic Image (Photo Credit – Pixabay)
Guna, June 10: A gang of robber brides was caught in Guna district of Madhya Pradesh. The women of this gang fall into the trap of young men who had trouble getting married and after marrying them they run away with jewelery and cash. According to the information received from the police, the matter is in Madhusudangarh police station area. Lakhan Lodhi, a resident of Ruphedi, informed Superintendent of Police Rajiv Kumar about the incident. According to Lakhan, she was not married.
On May 8, while his father Vikram Bapcha was in talks with Kala Bai Meena in his area, he, along with Govinda Meena, Lakshman and his father Naval Lodhi, a resident of Bhirpur, arrived for the purpose of robbery and met them along with other people including the powerful Singh Yadav. . They all demanded Rs 70,000 instead of marriage. After that, Lakhan got married in a temple. Lakhan said that after the marriage, Mamata talked about the deterioration of her mother's health and went to her mother's house. He came back with 15 thousand rupees. Two days later he started running again. When he did not succeed, he called his companions and they forcibly took him with them. Read more: Corona slows down in UP, CM Yogi keeps a close eye on Ground Zero, important meeting with Team-9
Superintendent of Police Rajiv Kumar took Lakshman's allegation seriously and after investigation it was proved to be true. A trap was set for this and the gang managed to arrest six people, including four women. Five accused of the gang are still absconding. To reach the accused, the police sent a constable to these people as a customer. The constable informed that the marriage was not taking place and he wanted to get married, the accused demanded one lakh and twenty thousand rupees from him. At the same time, gang members came from a car, who were caught by the police.