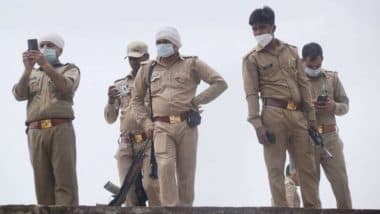 Uttar Pradesh Police (Photo credit: Twitter)
Sambhal (Uttar Pradesh), 10 June: A young man has been arrested in Sambhal district for extorting Tk 1 crore from a businessman. Police sources said a man rang the bell and threw an envelope at the door of Sharad Kumar's house in Ramanaomi locality on Thursday afternoon.
He said a letter in an envelope demanded extortion of Rs one crore. A case has been filed against an unidentified person in this incident. A young man is being questioned in custody on the basis of CCTV footage outside the house. Read more: Political upheaval in sudden death due to corona in Bihar
Police Superintendent Chakresh Mishra said one of the suspects, a resident of the same area, was taken into custody. The matter is under investigation.