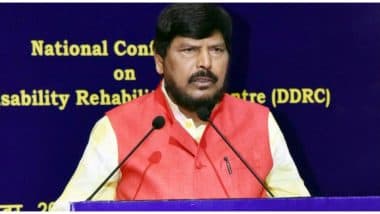 Union Minister Ramdas Atwale (File photo)
New Delhi: Actor Randeep Hooda's obscene remarks against BSP chief Mayawati are on the rise. Now Ramdas Atwale, a minister in the Modi government, has demanded the arrest of the actor. Union Minister of State for Social Justice and Empowerment Ramdas Atwale has demanded that actor Randeep Hooda be sent to jail for making indecent remarks against Mayawati.
He said the actor should be taught a lesson by taking action under the SC-ST Act. Ramdas Atwale has also appealed to the film industry to ban actors who have made inappropriate remarks. Randeep Huda to make digital debut through thriller cop Inspector Abinash web series
"Actor Randeep Huda is spitting out indecent remarks against former Uttar Pradesh chief minister and Bahujan Samaj Party supremo Mayawati and people are demanding the harshest punishment for Hooda," Minister of State Atwale said in a statement on Saturday. "
The Union Minister of State said, "A case has been filed against Randeep Hooda under the SC-ST Act. Under it, the actor needs to be sent to jail. Such insults to Mayawati will not be tolerated. It should be banned. Randeep Huda has insulted not only the Dalit society but also the entire women's society.