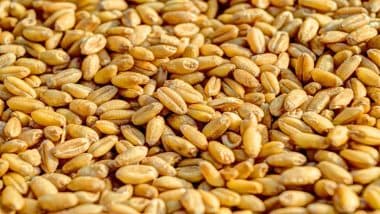 Wheat (photo credit – pixels)
New Delhi, June 10: India's exports of agriculture and allied products grew by 1.3.34 per cent to. 41.25 billion in FY 2020-21, and growth is expected to continue in the current FY. A top government official said on Thursday. Commerce Secretary Anup Odhwan said there was a huge increase in exports of cereals, non-basmati rice, wheat, buckwheat, maize and other coarse cereals. The largest markets for India's agricultural products are the United States, China, Bangladesh, the United Arab Emirates, Vietnam, Saudi Arabia, Indonesia, Nepal, Iran and Malaysia. He further mentioned that for the first time many cones were exported, for example, fresh vegetables and mangoes were exported from Varanasi and black rice was exported from Chandauli. Exports of agricultural products alone (excluding marine and plantation products) increased by 26.36 per cent to $ 29.71 billion in 2020-21, from. 23.23 billion in 2012-13.
Odhwan said, "Agricultural exports have performed well between 2020-21. Despite stagnation for the last three years (৪ 36.43 billion in 2011-18, বিল 36.474 billion in 2011-19 and-38.474 billion in 2012-13). During the period 2020-21 (ও 35.16 billion), exports of agriculture and allied sectors stood at $ 41.25 billion, an increase of 17.34 per cent. Also in Maharashtra, Kerala, Nagaland, Tamil Nadu, Assam, Punjab and Karnataka. Including 17 states have committed to implement agricultural export policy and finalized its specific action plan.
Read more: New Farm Act: Agriculture Minister Narendra Singh has reiterated his statement, saying the government is ready to talk to farmers' organizations, say where the objections are.
As part of the policy, 4 unique product-district clusters have been identified for export promotion and 29 cluster level committees have been formed. The Department of Commerce, in collaboration with the Department of Agriculture, is making efforts to enter the market of many Indian products. India has recently identified the pomegranate market in Australia. Argentine mango and basmati rice too; Carrot seeds in Iran; In Uzbekistan, there are markets for wheat flour, basmati rice, mango, banana and soybean oil cakes, Bhutanese tomatoes, oats and onions, and Serbian oranges.
The Ministry of Commerce said in a statement that the problem of pesticide residue contamination has affected the export of basmati rice to the EU, as strict regulations have been imposed by the EU for chemicals such as tricycloazol and buprofizin. In India, they are widely used in paddy cultivation. Export Inspection Council (EC) examinations have been made mandatory for basmati exports in the European Union, which has reduced the precautionary measures against export products. As a result, Punjab banned the sale of nine chemicals, including tricycloazole and buprofizin, during the kharif season in 2000, the statement said.
(This is a monitored and automatically generated story from a syndicated news feed, probably not edited or edited by the latest staff)