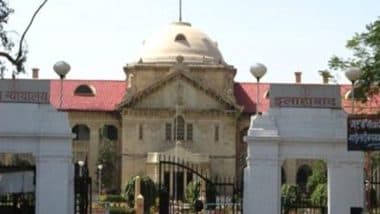 Allahabad High Court (Photo credit: Twitter)
Lucknow, May 12: Allahabad High Court (Allahabad High Court) The Election Commission, in a scathing attack on the state governments, said that they had failed to anticipate its catastrophic results while allowing panchayat elections in several states and Uttar Pradesh. A single bench of Justice Siddharth Verma made the remarks during the hearing of a petition seeking protection of a Ghaziabad-based manufacturer to avoid arrest for special reasons.
Uttar Pradesh police had filed a case against the builder alleging default on the property. In a 16-page anticipatory bail order, the court said how Kovid had reached a village in Uttar Pradesh in the wake of the recent panchayat elections in the state. The Allahabad High Court said, "The state government finds it difficult to control coronavirus infection in urban areas and to examine, identify and treat the population of villages suffering from this disease.
It will be difficult. The state lacks preparation and resources. " Read more: Punjab: Veteran Congress leader and former minister Inderjit Singh Jira dies of cancer
The court further said that the UP panchayat election played a role in the growth of Kovid. The court further said, "Due to the recent panchayat elections in the state, a lot of FIRs have been lodged in the villages. However, the crime rate in the villages in the state is quite high. The condition after the panchayat elections is that in the villages, a large number of accused can be infected and their infection cannot be detected."