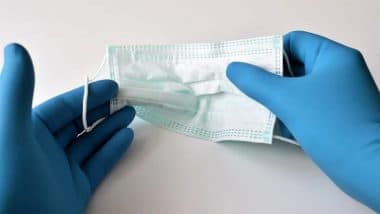 Photo Credit: Pixabay
Washington, May 14: In the United States, the Centers for Disease Control and Prevention (CDC) has said that people who have received two doses of the vaccine do not need to wear masks, with a big hint of a return to life before the coronavirus epidemic. The CDC said both should be told to go outside and stay indoors. President Joe Biden and Vice President Kamala Harris arrived at the White House Rose Garden wearing masks after the CDC announced it on Thursday. "I think it's a great achievement. It's a very big day. It's been a great success because of our tremendous success in vaccinating as many Americans as possible as soon as possible," Biden said, referring to the CDC's new guidelines. They were infected with Kovid-19. Very few.
The president said, "If you receive a full dose of the vaccine, you do not need to wear a mask. However, if you have not been vaccinated or you have had two vaccines and you only gave the first vaccine, not the second or for the expiration of two weeks after the second vaccination. Don't wait, but you still have to wear a mask. "250 million vaccines have been installed in 114 days." We're seeing results, "Biden said. The number of cases has dropped to 49 out of 50 in the state. The New York Times reports that the number of hospitalized patients is one. The year is the lowest since April 2020. Deaths have dropped by 60 percent and are at their lowest level since April 2020. "Sadly, the virus is on the rise in other countries as well," he said. We've given at least the first vaccine to about 100 percent of the people in the United States. " Not after sleep or without creating social distance. Read more: US prepares to send 159 oxygen concentrators to India: Pentagon
He said travelers within the United States do not need to be tested or segregated before or after the trip. According to the CDC, vaccines are effective in preventing Covid-19 disease, especially in cases of serious illness or death. Vaccines have reduced the risk of spreading the disease to humans. The United States recently approved 19 anti-covid vaccines from Pfizer, Modarna and Johnson & Johnson. These guidelines apply to these vaccines. At the same time, the CDC said, the guidelines could apply to vaccines recently approved by the World Health Organization for emergency use. These include the AstraZeneca / Oxford vaccine.