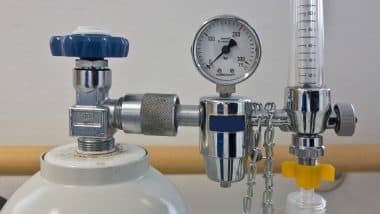 Medical Oxygen (Photo credit: Pixab)
Washington, May 14: The Pentagon said the Pentagon was preparing to send 159 oxygen concentrators to India by commercial aircraft next week. "Defense agencies are preparing 159 oxygen concentrators at Travis Air Force Base," Pentagon Press Secretary John Kirby told a news conference Thursday. They will be flown to India by commercial aircraft on Monday, May 17.
"We are certainly in close touch with our colleagues in the Indian government to provide them with all the assistance they need," he said. Read more: 75 killed in Assam's Kovid-19 and 12 killed in Nagaland
Kirby said Secretary of Defense Lloyd Austin also wanted the Pentagon to coordinate with and consult with Indian leaders in all possible ways.