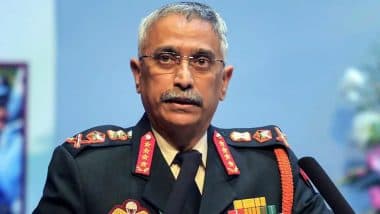 Army Chief General Manoj Mukund Narvane (Photo Credit: Facebook)
Srinagar, 02 June 2021: Army Chief General MM Naraven is on a two-day visit to Kashmir to review the security situation. Arriving in Srinagar, the Chief of Army Staff accompanied by Lt. Gen. YK Joshi, Commander of the Army's Northern Command, and Commander China Corps Lieutenant General DP Pandey inspected army units and structures in the hinterland. He briefed the local commanders on the current security situation in the security system and the steps being taken against them by identifying the terrorist support networks. These terrorist facilitators are involved in extremistizing the youth of the valley and joining terrorist organizations. Efforts to stop local recruitment and facilitate the surrender of local terrorists were also discussed. Read more: Nepal: Nepal's President Vidya Devi Bhandari confers General MM Narvan as 'Nepal Army General'
Speaking to the troops, the Chief of Army Staff praised the troops and generals who are fighting the two-pronged challenge of Pakistani-sponsored terrorism and global epidemics. He stressed the need to be prepared to deal effectively with emerging security challenges. Later, the Army Chief was briefed by the Chinese Corps Commander on the overall situation related to the Line of Control and the interior.
The Army Chief lauded the great connectivity shown by all departments of the Civil Administration, J&K Police, Central Armed Police Force and other security agencies in adopting a 'total government' approach as a result of a new era of development in the Union Territory. The security situation has improved.
In the evening, the Chief of Army Staff called on Hon'ble Lieutenant Governor Shri Manoj Sinha at Raj Bhavan and discussed the challenges and roadmap for lasting peace to J&K. LG commended the Indian Army for its assistance in restoring and maintaining peace in the Union Territory and for assisting the military authorities in dealing with the COVD-19 epidemic.