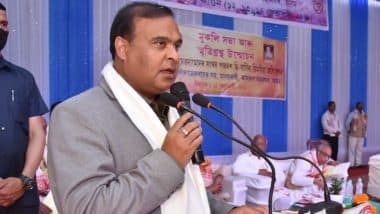 Himanta Bishwa Sarma (Photo credit: Twitter)
Guwahati: On Thursday, Assam Chief Minister Himanta Bishwa Sarma extended a helping hand to some children who lost their parents due to Kovid-19. Sarma told reporters that the deputy commissioners would compile a list of such children in their respective districts to implement the child care scheme. The Chief Minister provided assistance to 11 children before the start of the press conference here. Each child was given a laptop with a fixed deposit (FD) of Rs 61,002 and a check for Rs 3,500 for financial assistance for the current month.
A press conference was held to mark the end of the 30-day rule of Sarma's government. For the education and skill development of each child orphaned due to Kovid-19, his / her guardian will be paid Rs. 3,500 / – as monthly interest in FD. Sarma said the fixed deposit is for 24 years and after the expiry of this period the principal amount will be credited to the account of these children. Those who do not have guardians will be placed in a residential school or institution and the state government will bear their expenses. Read more: COVID-19 Update: India records 6148 deaths in 24 hours, less than one lakh new for third day in a row, infection rate less than 10%
The Chief Minister announced that the government has also decided to provide one-time financial assistance of Rs 2.5 lakh to all the women whose husbands have died due to Kovid-19. These women may also be eligible for the 'Arunodaya' (Sunrise) scheme and pension scheme. 'Arunodaya' is a plan for financial empowerment of women.