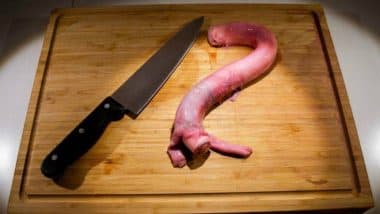 Photo Credit: Pixabay
A woman has caused a terrible incident due to jealousy. According to the report, the jealous wife decided to give her husband an education and when her husband fell asleep, he cut off his penis with scissors. The incident was reported from Vietnam. It is said that after this horrific incident continued, the woman took her husband to the hospital, where doctors had to fight for hours to reconnect his penis. While the 40-year-old was asleep, his wife cut off his private parts, according to local newspaper VN Express. After the incident took place, the wife herself took her husband to the hospital.
Nguyen Thanh Tuan, a doctor in the urology department at Cho Ray Hospital, told the newspaper that his team had been asked to reunite the penis. Dr Tuan said there were many problems encountered during the operation. The private part was cut with scissors, so the victim had to treat the wound first and wash the cut part well to avoid infection. Read more: Shocked! Girlfriend bites sleeping lover's private parts, takes this horrible step on suspicion of cheating
This operation requires special microsurgery spectacles and the surgeon needs to be trained in micro surgery, vascular surgery. After about 10 days, the medical team is optimistic and the health of the victim is improving. The victim told the newspaper that I feel better, now I can walk and eat normally. The police are currently investigating the matter. It is alleged that the incident took place because the wife was jealous of her husband's popularity with another woman. Read more: Shocked! Spanish rapper accused of stabbing British teacher's private part with a knife
Notably, a similar incident was reported earlier in the United States, where a man cut his wife's boyfriend's genitals with scissors. He was kept in jail after the incident. Alex Bonila was sentenced to 20 years in prison for carrying out the horrific incident.