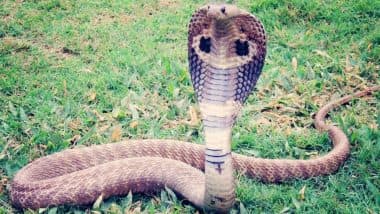 Symbolic image (Photo credit: Pixabay)
There are many people in this world who love animals very much, so they keep animals like dogs and cats in their house. It is understandable to keep dogs and cats together as pets, but can anyone think of keeping snakes as pets and he is not such a snake, but King Cobra?)? Yes, a tragic incident has come to light from China, where a person loves snakes so much that he ordered a king cobra online without poison with the intention of raising it, but mistakenly owning his own house. Poisonous king cobra snake. Delivered. After knowing what happened next, you will get goosebumps.
The incident took place in northeastern Heilongjiang, China, where a man ordered a one-meter-long King Cobra snake online with the intention of making a million, Global Times reported. Although he ordered for a king cobra snake without any venom. The shopkeepers further said that they sell the venom of poisonous snakes so that no one is harmed. Read more: Snake Viral Video: One should learn from this woman to control a venomous uncontrollable snake, see how she caught Nagraj empty handed
However, after ordering the non-venomous King Cobra snake, the venomous snake was accidentally delivered home. It is said that after the snake arrived at the house, he was not poisonous, suddenly the snake came to him and bit him about the snake bit the man's thigh, then he was immediately taken to the hospital. During the treatment, the doctors were also shocked, because the snake was poisonous and if there was a slight delay in reaching the hospital, it would have cost the person dearly. According to the man, the snake venom was extremely dangerous, but he escaped due to timely arrival at the hospital.