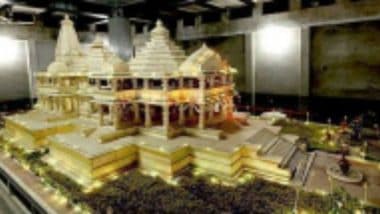 Photo credit: IANS
Ayodhya: On Monday, the foundation of the temple's sanctum sanctorum (Garbhagraha) was worshiped by Prime Minister Narendra Modi at the Bhumi Pujo ceremony on August 5 last year, nine sacred stone, silver and copper burnt temples were laid on Special prayers were offered. Ram Mandir: Rs 2,100 crore has been deposited for the construction of Ram Mandir in Ayodhya
Nine rocks named Nanda, Ajit, Aparajita, Bhadra, Nikyal, Jaya, Shukla, Purna and Saubhagyani were established. This was followed by a kurma or silver tortoise, a snake, a serpent, a Navaratna-enriched lotus flower, a bunch made from the base of a bud tree and a silver vase.
RSS leaders Bhaiyaji Joshi, Mandir Trust general secretary Champat Roy, Nimorhi Akhand Mahant Dinendra Das, trustee Anil Mishra, VHP leader Rajendra Singh Pankaj and Larsen & Toubro officials, Tata Consulting Engineers and Bal Engineers were present on the occasion.
Excavations are underway to build a 40-foot-deep foundation on the site of the temple, which will be 400 feet long and 300 feet wide. It will be filled with 44 layers of engineered film material to provide hydrolytic stability. Trustee Anil Mishra said two layers of 300mm engineer film have been laid. Construction has gained momentum and all foundation levels will be laid before weaving.