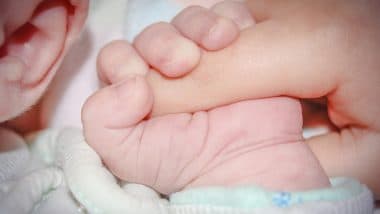 Symbolic image / baby (Photo credit: Pixabay)
Bangalore: A one-year-old case involving the theft of a newborn from a maternity hospital in Bangalore (Bangalore) has been solved with the arrest of a female psychiatrist. Police said the psychiatrist picked up the baby and sold it to a woman for Rs 16.5 lakh. Police identified the accused as 34-year-old Rashmi, who works as a psychiatrist at a well-known private hospital here. Bangalore: After losing his job, people became sex workers, such a bust in front of his wife, then what happened ..
Harish Pandey, Commissioner of Police, Southern Division, said it was a long and detailed investigation, with more than 30,000 calls investigated and initially police focused on about 60,000 suspects.
"When the matter was transferred to us six months ago, we formed a team of twenty members," he said. However, the Chamrajpet police did their job very well and we proceeded on the basis of the evidence they collected. The 20-member team consisted of selected personnel from different police stations based on their criminal investigation background.
According to the DCP's investigation, the accused, who was working at a reputed hospital in North Karnataka, came in contact with a couple with fertility problems about two to six years ago.
The DCP said the young couple gave birth to a child who suffered from mental disorders. With the help of this psychotherapist the couple was able to achieve considerable success in improving the child to a greater extent. Then naturally a bond was formed between them all. Then everyone became friends.
As soon as the couple spoke to Ray, he suggested that the couple could have a child through surrogacy.
DCP said he was overwhelmed by the idea and asked Rashmi to find a potential surrogate mother. Meanwhile, Rashmi came to Bangalore and got a job here. However, with the increase in education loan of Rs 15 lakh, Rashmi was in financial trouble. Rashmi lied to the couple and announced the delivery date as May 28, 2020. On the scheduled date, Rashmi made a round of the hospital and focused on Hasna Bano, who gave birth to a child two hours earlier, two hours earlier. "
The police official said he went to the hospital as a doctor and took the child away. After taking the baby, he called the couple and told them that he was coming to hand them over to the baby.
The 20-member team repeatedly scanned CCTV footage through more than 30,000 calls and, after questioning an auto driver, a taxi driver and a security guard, found sketches of the suspects and focused on technical evidence.
"Initially, our list of suspects was over a thousand, but after physical confirmation of age and address, it was reduced to 60,000," the DCP said. We only asked those who were in the age group and were able to walk perfectly
Asked how the accused was questioned by the police, the DCP said that Rashmi was one of the 60,000 suspects who came to the police station and prevented him from recording his statement. That's how he was caught.
Pandey said the child has been taken very well cared for, but has yet to undergo DNA testing and other police verification and selection and then the biological parents will be able to protect their rights.