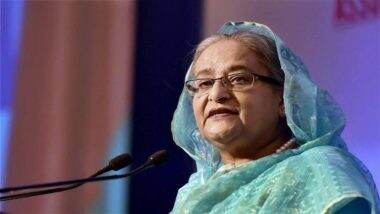 Prime Minister of Bangladesh Sheikh Hasina (Photo Credit-PTI)
Dhaka Dhaka, May 3: Bangladesh's Prime Minister Sheikh Hasina has said her boss will buy the Covid-19 vaccine at any cost to combat the second wave of epidemics in the country. The government has allocated Rs 1,500 crore to provide some relief to the economically weaker sections.
The Prime Minister called for strict adherence to health guidelines for them and others, regardless of whether they have been vaccinated. From her official residence Ganobhaban, Sheikh Hasina promised to provide financial assistance to the families of the marginalized. He promised financial assistance of Tk 2,500 to each of the 3.5.5 lakh low-income families involved in various occupations so that their problems could be alleviated during the Corona period. Read more: Madhya Pradesh Curfew: Corolla curfew in Bhopal has been extended till May 10
As soon as the second wave of the virus started, the Prime Minister directed to start humanitarian assistance activities. On Sunday, he confirmed that his government would buy the vaccine at any cost to protect the countrymen. They said we are bringing more vaccines. No matter how much money is needed, we will get more vaccines.