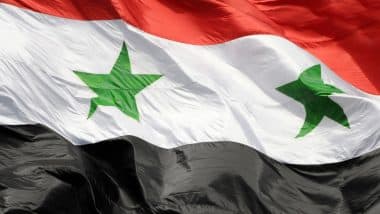 Flag of Syria (Photo credit: Wikimedia Commons)
These elections were declared illegal and hypocritical by Western countries and Assad's opponents. There is no doubt about Assad's victory in these elections. According to officials, about 17 million people have exercised their voting right. Voting did not take place in areas controlled by rebel and Kurdish forces in the ten-year-old conflict-torn country. At least 6 million people live in this region of northwestern and northeastern Syria, most of them displaced. About 5 million refugees have decided not to vote.
U.S. and European officials have also questioned the legitimacy of the election, saying it violates UN resolutions aimed at resolving the conflict, lacks international oversight and does not represent all of Syria. On Wednesday, the chairman of the Syrian parliament, Hammoud Sabbagh, announced the results of the vote.
Read more: Syria: Bus attack in southern Syria, 26 killed, 13 injured
He said Assad received 95.1 percent of the vote. With this, he said that in the election held on Wednesday for 1 17 hours, in৮..6 percent voting was recorded. No independent observers were involved in the election.
Assad faces a symbolic challenge from two candidates, including a former minister and the leader of the opposition.
(This is a monitored and auto-generated story from a syndicated news feed, most likely not modified or edited by the latest staff)