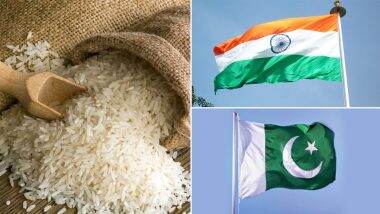 Indo-Pak fight over Basmati rice (Photo credit: Wikimedia Commons / PTI)
Disputes between India and its main rival Pakistan on almost every front, including sports, politics and diplomacy, are nothing new. However, now that the battle between the two has intensified, it is basmati paddy. Although Pakistan has received the GI (Geographical Indication) tag for its basmati rice, which may further strengthen the European Union's (EU) claim on the source of basmati rice, India has also made it known to the EU. . Best to buy basmati rice in Indore
According to the information received, India has applied for a special trademark which will make it the only Basmati title in the European Union, which could be a big blow to Pakistan. Pakistan immediately opposed India's move to get Secured Geographical Indication (PGI) from the European Commission.
According to the United Nations, India is the world's largest exporter. India exports 8 8.8 billion worth of rice annually, followed by Pakistan at ২ 2.2 billion. Both countries are the sole global exporters of basmati.
Pakistan is fighting an Indian lawsuit over the registration of basmati rice as a commodity in the 277-member European Union. The law requires that before applying for registration of any product in the international market, it must be protected under the Geographical Indications (GI) Act of that country.
PGI status is a geographical area where at least one stage of production, processing or preparation places intellectual property rights on finished products. The GI tag, on the other hand, is an indicator used in products that are characterized by a particular geographical source and region's particular qualities and characteristics.
In September last year, India applied to the European Union for sole ownership of basmati rice. The issue of preserving basmati rice as a product of Pakistan came up after the submission of the application. In its application, India has claimed that this long-scented 'basmati' rice is exclusively grown in a specific geographical area of ​​the subcontinent.
After shedding light on the history of Basmati rice, India also claimed that this growing region is a part of northern India, which is a part of the Gangetic plain at the foot of the Himalayas.
This Indian claim was challenged before the European Union in December, and Pakistan's main argument was that basmati rice was a joint product of India and Pakistan. Pakistan exports five to seven lakh tonnes of basmati rice to different parts of the world every year, out of which two lakh tonnes to two and a half lakh tonnes are exported to EU countries. (With agency input)