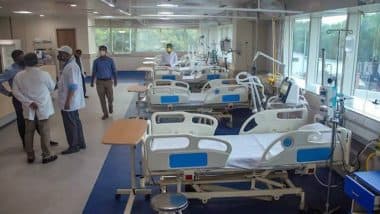 Symbolic image (Photo: PTI)
New Delhi: The Union Health Ministry made a big announcement on Saturday amid a growing outbreak of corona (Covid-19). It will not be mandatory for any patient to show a positive report of coronavirus for admission to Covid Health Centers. The Union Ministry of Health has revised its national policy on covid health facilities, giving huge relief to corona patients today. Now a positive report will not need to be admitted to the Covid facility.
Earlier, before the change in national policy, if a patient with corona symptoms was brought to the Covid facility, the Covid positive report was compulsorily sought from him. Under the new national policy, patients infected with coronavirus will now be immediately admitted to CCC, DCHC or DHC wards.
Without these no patient will be deprived of services for any reason. These include benefits such as oxygen, essential medicines, and complete patient care. Other than that, even if the patient is from another city, the treatment cannot refuse to treat or appoint him.
The Union Ministry of Health has revised the national policy for admission of COVID patients to COVID facilities; Positive testing for the COVID-11 virus is not mandatory for admission to any COVID healthcare pic.twitter.com/odbcXo8iI4

– ANI (@ANI) May 8, 2021
The Union Ministry of Health has directed the Chief Secretaries of States and Union Territories to implement the new policy within three days. Under this policy, patients with mild symptoms of corona can be admitted to the suspected ward without a positive report. These include Covid Care Center, Fully Dedicated Covid Care Center and Covid Hospital.