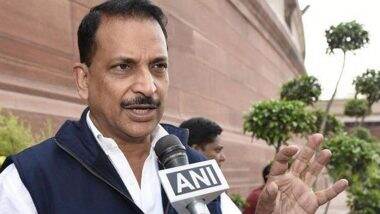 Rajiv Pratap Rudy (Photo Credits)
Bihar Ambulance Debate: On Tuesday, Rudy John cleared allegations against Central Party chief Pappu Yadav's former Union Minister Rajiv Pratap Rudy (Rajiv Pratap Rudy) for keeping the ambulance in the Gulf. He said the ambulances were parked not in the house but on the premises of the community center. He said it was easy to fight a criminal but not a political criminal. Speaking to reporters, MP Rudy said that he does not have to fight with anyone personally, but we have to be clear about the situation that has arisen today.
He said it was alleged that an ambulance was parked in my house, in reality it was not in anyone's house but in the community center premises and there was no boundary wall at that center. He said that the land being mentioned is also registered in the name of the government. "It's very difficult to fight a political criminal. I'm holding a press conference today with a very sad heart," he said. Read more: Bihar: BJP MP Rajiv Pratap Rudy and Pappu Yadav face off after MP's ambulance ineffective
Rudy said 32 cases have been filed against Pappu Yadav. If the culprit is sitting in the temple in such a situation, he cannot be a saint. The BJP leader said many ambulance drivers had left during the Corona period. Many insurance and fitness failed, such ambulances can not work. He said with pride, "Saran Bihar is not only the first district of ambulance operation in the country where these nationally funded ambulances have been operated for the last few years and I am proud of it.
He said there is a central control room for this. He said the ambulances were operated under the district ambulance steering committee headed by DDC. This is the responsibility of the head of the panchayat. He said that the question is also being raised about the chief, he is also a people's representative.
Rudy said that when we talked about standing in the ambulance due to the driver's absence, Pappu Yadav said that 40 drivers were sent, but the reality was that no one came to us. "We have already written a letter to the district magistrate demanding an ambulance driver," he said. In response to Pappu's allegations, Rudy said he could not send anyone to jail. He said the court had issued a warrant in the case in which the former MP was arrested.
It is worth mentioning that a few days ago, former MP Pappu Yadav released a picture of several ambulances to visit Rudy's area and said that many ambulances bought with the amount of MP items were concealed.