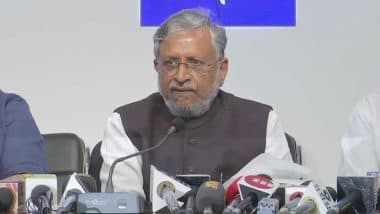 Sushil Modi (Photo credit: ANI)
Patna: BJP leader and Rajya Sabha MP Sushil Kumar Modi, who was in Bihar's Nitish Kumar cabinet till last year, advised Bihar Chief Minister Nitish Kumar (CM Nitish Kumar) on Wednesday that the coronavirus vaccine should be given from any country in the world instead of relying only on central government and domestic vaccines. The state government should consider accepting global tenders.
Modi, a former deputy chief minister of Bihar, tweeted from his official Twitter handle, "Bihar, with a population of 110 million, will need millions of vaccines with the introduction of corona vaccine for all people under the age of 18. So instead of relying solely on the central government and domestic vaccines, the state The government should consider accepting a global tender to bring the coronavirus vaccine from any country in the world. " Read more: In Bihar, vaccinations for people over the age of 18 start today, people are standing in line to get vaccinated.
He wrote in another tweet, "Several states like Andhra Pradesh, Orissa, Uttar Pradesh, Delhi, Karnataka, Telangana have formed a high-powered committee to consider the possibility of direct importation of coronavirus vaccine. The tender issue has been requested. The Bihar government has also taken initiative in this regard." There should be no problem with the availability of the vaccine. "
The BJP leader further said that the Bihar government has agreed in principle to spend Rs 4,165 crore for coronary vaccination and immunization. Of this, Tk 1,000 crore has been allocated immediately. In such a situation there is no shortage of funds but domestic pharmaceutical companies cannot meet the time requirements of all the states of the vaccine by increasing production overnight, so the global tender option should be adopted.
It is noteworthy that in last year's Assembly election campaign, the BJP promised to give people free corona vaccine.