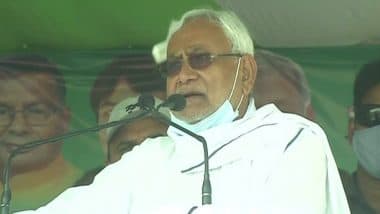 CM Nitish Kumar (Photo Credit – ANI Twitter)
Patna: On Wednesday, Bihar Chief Minister Nitish Kumar claimed that corona investigations have been stepped up in the state and hospital infrastructure has been built. He appealed to the people to maintain patience and courage in the fight against Corona. The Chief Minister issued a message on social media that the people of the country are fighting Corona like the rest of the world. He said several steps have been taken to get rid of the corona epidemic in the second wave of corona in the state.
He said a lock has been imposed in the state from May 5 to May 15 in the wake of the corona infection. The number of patients under lockdown has decreased. He said more than one lakh samples are being tested every day. He said that in addition to medicines, basic infrastructure is being provided in the state hospitals. Read more: Bihar: BJP leader Sushil Modi advises CM Nitish Kumar, 'Don't just rely on corona vaccine centers'
He said that during the lockout, employment is being provided to the interested people and community kitchens are being run in all the districts for the poor and helpless. The Chief Minister lauded all the Corona fighters and said that commendable work was being done by them.
The Chief Minister said, "The first wave of Corona faced Bihar with perseverance and courage. Once again, strong-willed and positive-minded Biharis will succeed in this battle against Corona. That we will all overcome this disease together.