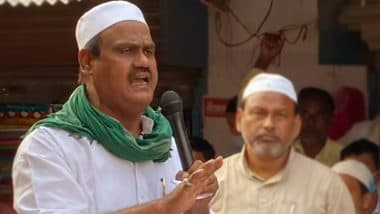 Tanvir Akhter (Photo Credit: Facebook)
Patna: The total number of people killed in the epidemic in the state stands at 32,225, after 76 people, including councilors in the JDU legislature, died in Bihar on Saturday due to the corona virus infection.
The Department of Health provided this information. According to department sources, 12,948 people have been infected with the coronavirus since yesterday. During this period, 14,902 people recovered from the infection and the number of patients under treatment dropped to 1.12 million.
Among the dead was JDU lawyer councilor Tanvir Akhter, who died at the IGIMS hospital here after contracting the coronavirus. About 15 days ago, BJP lawyer councilor Harinarayan Chowdhury Chowdhury died of the epidemic. Read more: MLC Tanvir Akhtar dies in Bihar's Korona, CM Nitish Kumar mourns
Chief Minister Nitish Kumar mourned Akhtar's death and said his funeral would be conducted with full state honors. Since March last year, 57.02 lakh people have been affected by corona. Of these, 4.40 lakh people have been cured. A total of 799.27 lakh people in the state have been vaccinated with the Covid-19 vaccine.
At the same time, the total number of deaths from the disease has risen to 10,315, after 171 people died due to corona virus infection in Punjab on Saturday. After 9,100 cases of infection, the number of infected people increased to 4,33,689. According to the medical bulletin, the total number of patients undergoing treatment in the state is 1,946.
(This is a monitored and auto-generated story from a syndicated news feed, most likely not modified or edited by the latest staff)