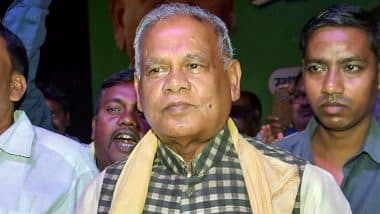 Jitan Ram Manji (Photo Credit – PTI)
Patna: On Wednesday, Manji himself put an end to speculation over recent remarks by Jitan Ram Manji, head of the Hindustani Aom Morcha (HM), the ruling National Democratic Alliance (NDA) in Bihar. At the party's national executive meeting on Wednesday, he made it clear that he was in the NDA and would remain in the NDA. On Wednesday, Manji said, "I am in the NDA and will be in the NDA. I will continue to be vocal on the issue of the poor.
A meeting of the party's national executive party was held under the chairmanship of the party's national president and former Bihar chief minister Jitan Ram Manji. At the meeting Manji said they were not going anywhere. Manji has been discussing his statement for the last few days. On many issues, he targeted the BJP, the NDA's largest party. Questions were also raised about Prime Minister Narendra Modi's picture regarding the coroner's vaccine certificate. Read more: Tensions continue in Bihar's Mahaghatbandhan, Jitan Ram Manji calls Tejaswi Yadav 'inexperienced'
Manji also advised Chief Minister Nitish Kumar on many issues. Following this statement, a discussion ensued as to whether Manji was in the mood for revenge. Recently, after meeting with Bikash Insan Party (VIP) chief Mukesh Sahni, the speculation is growing. But on Wednesday, Manji himself put an end to all speculations.
Here, HAM spokesperson Danish Rizwan said that Mansi has already said that he will stay with Nitish Kumar till his last breath. In a situation where those who cook casserole and dream of becoming chief minister, they wake up. The people of Bihar have elected Nitish Kumar as the Chief Minister and he will serve the people. He said the NDA is fully united.