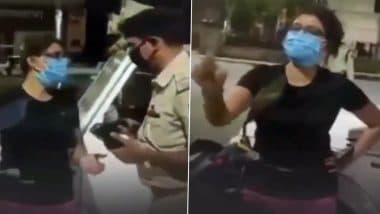 Girl riding a scooter in Patna (Photo credit: Twitter)
A lockdown has been imposed on corona infection in Bihar, however, some people do not seem to care about it. Her video, which went viral on social media, showed the girl riding a scooter in the middle of the street violating all traffic rules and behaving offensively with police. Police were seen cutting his consignment in violation of the rules. The video also shows the girl swearing at all the leaders. Police in Patna have had to fight hard to ensure a lockdown. Read more- Bihar: 'Relatives' away from their loved ones, unfamiliar faces have become 'helpful'.
The video of the abuse with the police is said to be in Patna, the capital of Bihar, though INS does not confirm the viral video. In the video it is clear that when the policeman passes the girl, otherwise the girl gets excited when asked to cut the invoice. The girl also threatened to go to the job of a policeman.
Watch the video-
In the video, the girl exclaims, 'When the mind sets the lockdown, the market closes. Hey, the one who earns jam, he eats, what he is dying for, don't watch it by starvation. Here the invoice is being cut. Where does this invoice go after being cut? '