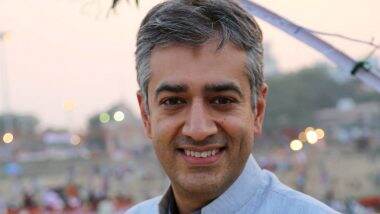 Ankur Bhatia (Photo Credit: Facebook)
Bird Group Executive Director Ankur Bhatia passed away on Friday. He was 48 years old. He is reported to have died of cardiac arrest. Ankur Bhatia emphasized the strategic aspects of his group to strengthen multiple levels of growth, which has made a significant contribution to the development of the company. He also designed and implemented Blue Ocean Strategies to strengthen its overall brand offerings while establishing its leadership in the market and entering a new phase of growth. Ankur Bhattiar, who brought the Amadeus brand to the Indian subcontinent in 1994, is today the market leader in providing travel technology to travel agents and airlines. Read more: Mukesh Ambani did not take salary from Reliance Industries Limited.
In line with Bhatia's promise to shape the future of mobility in India, the Bird Group has entered the realm of electric mobility and continues to add a new era of dynamic vehicles to Bird Electric's product portfolio. Bird Electric has taken India's personal mobility equipment to new heights as the sole distributor of Segway Personal Transporters (PT) over the last 10 years.
The bird team has expressed grief over the death of Ankur Bhatia
– Bird Group (@ BirdGrip) June 4, 2021
As executive director, Ankur Bhatia led the group's growth in the hospitality sector of Bird Hospitality Services, setting new standards and world-class hospitality assets through Rosetti hotels and resorts. The group currently owns six luxury properties in India and the United States. He is also credited with launching the country's first all-natural and perennial indoor ice-skating rink and cafe-ice skate at the Ambience Mall in Gurugram.
INS input