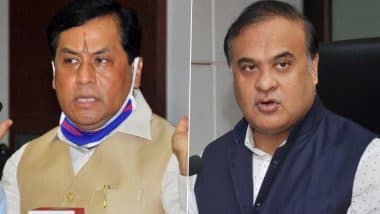 Sarbananda Sonwal and Himanta Bishwa Sharma (Photo Credit: PTI)
New Delhi: A four-hour meeting was held at the residence of Bharatiya Janata Party (BJP) national president JP Nadda (JP Nadda) on Saturday to take a decision on the Assam chief minister (Assam). Home Minister Amit Shah was also present at the meeting which lasted from 11 a.m. to 3 p.m. The meeting decided to elect the chief minister at a meeting of the Legislative Assembly held in Guwahati on Sunday. Hemant Bishwa Sharma, who became the fifth MLA from Assam's Jalukbari constituency and won more than one lakh votes, has significantly increased his status in recent times.He is being considered among the high profile leaders. Decision about the new Chief Minister of Assam? After the meeting with BJP President JP Naddar, Himanta Bishwa Sarma gave a big speech
Outgoing Chief Minister Sabrananda Sonowal did not make too many headlines and was considered one of the quietly working low profile leaders. In Assam, the BJP has to elect a chief minister in a high-profile vs. low-profile face. Hemanta Bishwa Sharma (Hemanta Bishwa Sharma) was the first to attend the meeting of BJP national president JP Naddar at 11am on Saturday. The first meeting was between BJP President JP Nadda, Home Minister Amit Shah and Hemant Bishwa Sharma.
Hemant Bishwa Sharma then left JP Naddar's house. Then the outgoing Chief Minister Sarbananda Sonwal reached the house of JP Naddar. This time Sabarnanda Sonowal had a meeting with JP Nadda, Amit Shah, BJP general secretary BL Santosh. After the meeting, Hemant Bishwa Sharma was called again. This time in Assam, the BJP leadership held a meeting in the presence of both the claimants of the Chief Minister.
Sources said that Hemant Bishwa Sharma had spoken of having several MLAs in support of his demand. After much discussion, the BJP leadership decided that there would be a meeting of the legislature party in Guwahati on Sunday, where the MLAs would elect their leader. Sources said that if Hemant Bishwa Sharma becomes the chief minister, then Sarbananda Sonwal could be made a minister at the Center. However, the BJP leadership is trying to ensure that both the leaders should work only in Assam. In this case, the equation can be repeated as it was last time. "There is a possibility of a meeting of the assembly party in Guwahati tomorrow so that this leader can be elected," Hemanta Bishwa Sharma told reporters after the meeting.