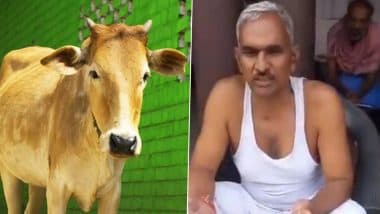 BJP MLA Surendra Singh (Photo credit: Twitter)
Sand: BJP MLA Surendra Singh from Baria in Balia district of Uttar Pradesh has made a surprising demand. They have claimed that they do not have coronavirus by consuming cow's urine and turmeric powder regularly. It is said that in India judges, ministers, officials are dying from corona, if the government had medicine it would have been treated immediately. But the reality is that there is no cure for an epidemic like corona like divine divine wrath, all the measures have failed. In such cases, turmeric powder fried in cow urine and cow ghee is the only proper treatment. Controversial remarks by BJP MLA Surendra Singh, who said that the Taj Mahal was a Shiva temple before, the Ram Mahal will be built soon.
The video of the BJP MLA is going viral. They say there is no risk of corona from drinking cow urine. Alam Surendra Singh is being trolled on social media about this statement. The video shows him telling people to drink cow urine. The BJP MLA has claimed that Corona can be controlled from Gomtra. He said that even after working 18 hours in public, he did not become Karna positive, the secret behind this is Gomutra.
Bhakto to sharu ho jaye ab … BJP UP MLA Surendra Singh pic.twitter.com/6Xq8Rw636X

– Ishi Kumar (@ Bokjhak 1604) May 8, 2021
He said that if there is a cow in the house, if you drink 50 ml of cow urine and 50 ml of water on an empty stomach in the morning, no disease will come to Corona. Along with this while eating turmeric powder fried in ghee he said that I eat 10 times a day and drink cow urine every morning. Therefore, we cannot touch any corona.
Surendra Singh further said that those who live in the city will not have a cow at home, but they should buy a bottle of Patanjali's Ine Swarik Godhan drainage and should eat five Divakana Divya Godhan drainage and 10 idsakna mixed with water on an empty stomach every morning. Do not eat or drink anything for half an hour, so coronary infections cannot touch them. This video is going viral on various social media platforms. People are sharing this video fatally.