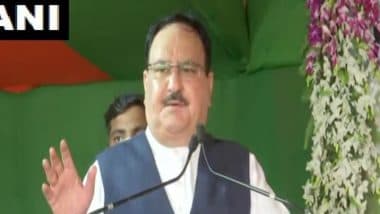 Photo credit: ANI
New Delhi, 30 May On Sunday, BJP president JP Nadda said his party workers and leaders were involved in relief work during the Corona virus epidemic and opposition parties had split. Addressing party workers digitally on the occasion of the end of seven years of Narendra Modi-led government at the Center, the BJP president said all party MPs, ministers and MLAs had followed the Kovid rules and lockdown instructions on the occasion. He will serve the people of at least two villages.
Nadda claimed that BJP workers were on the side of the people during the epidemic and that opposition leaders were only seen holding press conferences digitally. He said that while BJP workers and leaders were carrying out relief work in the Corona virus epidemic, opposition parties were nowhere to be seen. Nadda said that party workers in one lakh villages and hamlets are serving the poor people on this occasion.
Read more: BJP President JP Nadda says Prime Minister Modi's leadership has boosted the country's confidence in the path of self-reliant India
Investigating the opposition, Nedda said that those who are talking about the Covid-19 vaccine today have previously raised suspicions about the vaccine.
BJP workers are celebrating the anniversary as 'Service Day'. The BJP has decided not to celebrate the seventh anniversary of the party government at the Center in the wake of the Kovid-19 epidemic, but will distribute relief items across the country.
(This is a monitored and automatically generated story from a syndicated news feed, probably not edited or edited by the latest staff)