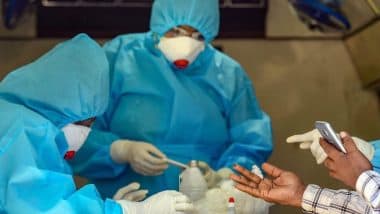 Photo credit: PTI
Lucknow: The black fungus and the white fungus Knock in the coronavirus are making people restless. Ordinary people are in trouble and anxiety because of this disease. According to doctors, black fungus causes more damage to the heart, nose and eyes. It also affects the lungs (lungs). Where white fungus causes more damage to the lungs than that. However, experts believe that the treatment of black and white fungi is fully present. In this case, we need to be vigilant. Black fungus update: 8848 cases of black fungus exacerbate the problem in the country, the center has sent drugs to the states for treatment
There are concerns among people due to white fungus cases in the Maui area in the east. The health department has been warned about this everywhere. It is known to be a disease with the same symptoms as corona. The white fungus infects the lungs and damages it and the patient continues to examine the corona due to shortness of breath. The disease is detected by HRCT and mucus culture in the chest.
Dr. Jyoti Bajpayee, Assistant Professor, Department of Respiratory Diseases, KGMU, said, "The fungus is only fungus. It is not white or black. Musharamikis is a fungal infection. It is called black fungus because of its black color. And black fungus is nothing in the medical literature. It is a separate class. It is called black and white for people to understand.
The disease is detected by HRCT and mucus culture in the chest. There are corona-like spots on the lungs. These two did not show much effect in the first wave. In the second wave, the variant of the virus has changed. This time the youngsters were especially in the grip of the wave. It has grown very fast in a few days. That's why people have to stay in the hospital for a long time, as well as steroid use is much higher. Diabetics are also more at risk.
He said, "Oxygen pipelines and humidifiers should be clean. Control sugar. Oxygen reaching the lungs should be pure and fungus free. Be aware of this but don't panic. Black fungal infections are infecting people with weakened immune systems. People who already have serious illnesses such as diabetes or have used steroids also have an increased risk of developing high oxygen support. A walking patient does not suffer from black fungus. There is no risk of black fungus giving the right amount of steroids at the right time. The white fungus has no record of death yet. The immune system of the black fungus spreads rapidly with low blood pressure. The black fungus is not a new disease. There is also a cure for it. It is possible.