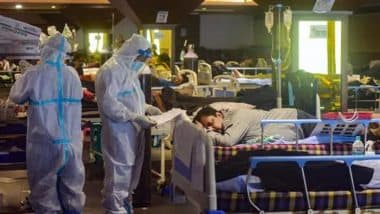 Symbolic image (Photo: PTI)
New Delhi: The country is facing a second wave of corona epidemics. Due to which, there are still cries of corona epidemic all over the country. India has not yet recovered from this crisis, has not faced any problem macromycosis i.e. black fungus disease. Due to the daily detection of black fungus in different states of the country, it has been declared as an epidemic in several record states including Haryana, Rajasthan and Madhya Pradesh. At the same time, the black fungus has been declared an epidemic in Bihar.
On Saturday, a meeting was held with the health department with CM Nitish Kumar on the growing case of mukoramycosis. After the meeting, the state government declared the black fungus an epidemic in Bihar. According to media reports, about 117 cases of black fungus have been reported in Bihar so far. Who are being treated at various hospitals in Bihar. Read more: Black fungus: The Rajasthan government has declared myocardial infarction an epidemic
The black fungus has declared an epidemic in Bihar
Bihar Chief Minister Nitish Kumar declared black fungus as an epidemic: CMO

– ANI (@ANI) May 22, 2021
The epidemic has also affected Bihar, Maharashtra, Delhi, Haryana, Madhya Pradesh, Himachal Pradesh, Karnataka, UP, Punjab, Gujarat, Tamil Nadu, Rajasthan, Orissa, Bihar, Chandigarh, Uttarakhand and Telangana. In most of these major states, the disease has been declared an epidemic.
Although black fungus drugs have been found in the market. Pharma company MSAN has introduced black fungus drug Postaconazole in the market. Patients will be relieved by the arrival of medicines. Although the drug is not available in the market everywhere, the company claims that the supply will soon be increased across the country.