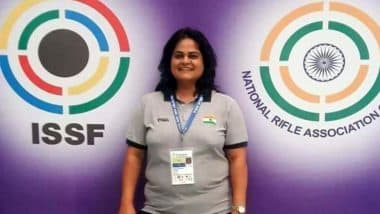 Monali Gorhe (Photo credit: Twitter)
New Delhi, 20 May. Shooting coach and technical officer Monali Gorhe, who recovered from the Kovid-19 infection, died of myocorrhosis on Thursday. He was 44 years old and his mother and one sister are survived by him. His death is a great loss for the Indian shooting world. Monali was hospitalized after contracting Kovid-19, but was released. He was admitted to the hospital again for treatment due to respiratory tract infection. Many people who recover from coronavirus infection become infected with the black fungus. It is a fungal (fungal) infection that affects the nose, eyes and sometimes the brain. His father Manohar Gorhe also died of Kovid-19 infection a few hours before his death. Read ALSO – Milkha Singh Test Coronavirus Positive: Great Army Runner Milkha Singh Corona Positive.
Monali was the coach of the pistol core group. He had earlier served as the national coach of the Sri Lankan shooting team. He set up a shooting coaching center in Nasik called 'Excel Shooting', where he was training hundreds of students from Maharashtra. The National Rifle Association of India (NRAI) has expressed grief over the death of Monali and her father.
According to a statement issued by the NRAI, "We are deeply saddened to learn that Monali Gorhe, a pistol coach and Core Group's skilled technician officer, has died today due to a black fungus infection." It is said that his father also died today. The shooting fraternity mourned his death. "