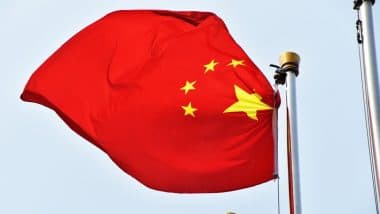 Flag of China (Photo credit: PTI)
Beijing: China on Wednesday said the BRICS is a "model" of cooperation between emerging markets and developing countries and supports a UN-centric international system and multilateralism. A day after the BRICS foreign ministers' online meeting, chaired by Foreign Minister S Jayashankar, Chinese Foreign Ministry spokesman Wang Wenbin told a news conference that the meeting discussed COVD-19, multilateralism and burning issues, and that these issues were widely discussed. Agree. BRICS is a group of five countries: Brazil, Russia, India, China and South Africa.
As President of the BRICS 2021, India hosted the meeting, which was attended and chaired by Chinese Foreign Minister Wang Yi, Russian Foreign Minister Sergei Lavrov, South African International Relations Minister Grace Naledi Mandisa Pandor and Brazilian Foreign Minister Carlos Alberto Franco. Written by Foreign Minister S Jayashankar. The spokesman said Wang Yi told the meeting that "BRICS represents cooperation between emerging markets and developing countries." Read more: If China Takes the Opportunity to Be a Developing Country, Build America as a Developing Country: Trump
"In the face of major changes and global epidemics in a century, the BRICS must contribute to the health of the people, to the maintenance of international order, to world development and to world peace," Wang said. "The BRICS must play its part in promoting global solidarity and strengthening the global response to common challenges," he said.
"We look forward to working closely with BRICS partners.
In a joint statement on strengthening and reforming the multilateral system, the spokesman said, "Multilateralism is an important foundation of the current international system. "This statement is the result of the efforts of the five BRICS countries and reflects the common aspirations of most countries," the spokesman said. The international community should be aware of this.
(This is a monitored and automatically generated story from a syndicated news feed, probably not edited or edited by the latest staff)