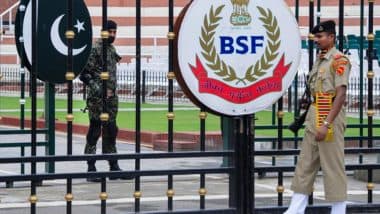 Attic Border (Photo Credit: PTI)
Jaisalmer, 13 May: A Border Security Force (BSF) jawan has reportedly committed suicide in the Shahgarh Balz area of ​​Jaisalmer. According to information received, the soldier posted at the international border fired with an official rifle on Wednesday. The cause of the suicide was not known.
Known as Prem Singh Yadav, he returned from Vind (Madhya Pradesh) on April 30 after a month-long vacation. Read more: Maharashtra: Two Naxals killed in Gadchiroli clash with police
Upon receiving the news of the incident, BSF officials reached the spot and informed the police. Shahgarh police handed over the autopsy to BSF officials after investigation.