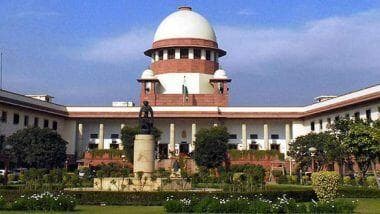 Symbolic Image (Photo Credit ANI)
New Delhi, June 2. The Supreme Court has ruled that the immunization policy, which relies entirely on the digital portal 'Co-Win' for people between the ages of 18 and 44, will not be able to complete universal immunization because of a "digital divide" and a "barrier to access" To lose. The apex court said the national policy would severely affect the fundamental right to equality between the ages of 18 and 44 and the right to human health. The apex court further noted that digitally educated people are also facing difficulties in getting vaccination slots through the Co-Win portal. The court asked the center if it had audited the accessibility of apps like the Co-Win website and Arogya Bridge to see how people with disabilities have access to them. The court said it had noticed that visually impaired people do not have access to the co-win platform and there are many barriers to accessing the website. Read more – Guidelines for Protecting Children from Covid will be issued soon, before health experts keep these issues in mind.
A special bench headed by Justice DY Chandrachud recommended the annual report of the Common Service Center (CSC) for 2019-20 by the Ministry of Electronics and Information Technology and a report of the Telecom Regulatory Authority of India and National Statistics Office by July 2017 and a survey conducted in June 2018. "Household Social Use: Education" is mentioned. The bench said, "It is clear from the above data that the digital divide in India is particularly high in rural and urban areas. The progress made in digital literacy and digital access has not reached the majority of the population. The availability of bandwidth and connectivity poses further challenges to digital access."
The bench comprised Justice LN Rao and Justice SR Bhatt. The bench made the observation in its May 31 order on self-immolation knowledge about the services and supplies needed during the Covid-19 epidemic. The order was uploaded on the apex court's website on Wednesday.
"Immunization policy based on a fully digital portal for immunization of a significant population between the ages of 18 and 44 in this country will not be able to meet the goal of universal immunization due to such a digital gap," the bench said. The disadvantaged sections of the society will suffer the most due to the obstruction of access. The bench observed in its order dated April 30, identifying the challenges faced by disadvantaged members of society in administering the Covid-19 vaccine.