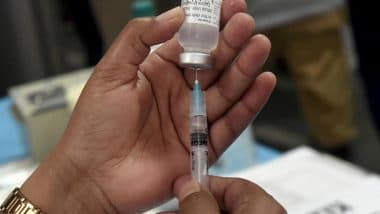 Coronary Vaccine (Photo Credit: PTI)
Bhopal, June 11: Vaccination campaigns are underway to prevent coronary infections. All inmates in Madhya Pradesh jails will be vaccinated by July 15. Vaccination is in progress. Additional Chief Secretary (Prisons) Dr. Rajesh Rajoura (Dr. Rajesh Rajoura) informed that the work of vaccinating the prisoners has started from June 1, 2021.
Dr. Rajoura said that the authorities have been instructed to give 100% vaccination to all the detainees in the jail within 45 days. The Government of India will confirm the second dose of the vaccine at the scheduled time. Read more: Covin not hacked, data of 150 million Indians safe: Researchers
There are 49,000 underdial prisoners in 131 jails in Madhya Pradesh. So far, 7,100 of these prisoners have been vaccinated.