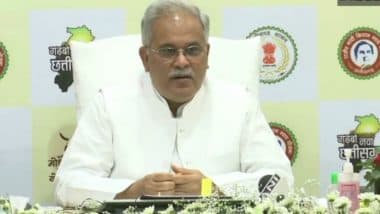 CM Bhupesh Baghel (Photo Credit: ANI)
Raipur: The Government of Chhattisgarh (Government of Chhattisgarh) has decided to bear the tuition fees and provide scholarships to children who have lost their parents due to corona virus infection in the state. Officials of the state's public relations department said on Thursday that the government would take responsibility for the education of children whose parents had died due to Kovid-19 through the Chhattisgarh Mehtari Dular project. This project will be implemented from this financial year.
Officials said the Chhattisgarh government would bear the full cost of educating such children who lost their parents to the corona virus infection this financial year. In addition, a scholarship of Rs.500 / – per month will be given to such children from class I to VIII and Rs.1000 / – per month will be given to children of class IX to XII. Children studying in any government or private school will be eligible for this scholarship. Corona fight in Chhattisgarh: Corona virus defeated 14,376 in one day in Chhattisgarh, won lives
He said that along with this, the state government has also decided that the education of such children, whose main earning member of the family has died from Kovid-19, will also be provided by the state government. The state government has decided that if these children apply for admission in Swami Atmananda English Medium Schools in the state, they will be given priority admission and no fee will be charged from them.
As of Wednesday, 6,833,210 cases had been confirmed in Chhattisgarh, of which 9,317 had been cured after treatment. 11094 people have died due to corona virus in the state.