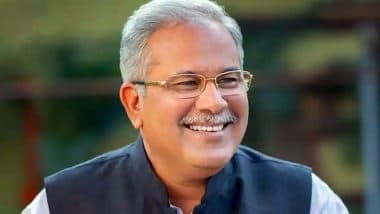 Photo credit: PTI
Raipur: There is a picture of Chhattisgarh (Chhattisgarh) Chief Minister Bhupesh Baghel, whose main opposition party, the Bharatiya Janata Party (BJP), aged 18 to 44, has been included in the certificate issued at the time of vaccination. The BJP has accused the ruling Congress party of focusing more on photo campaigns than vaccinating them. At the same time, the Congress has said that while the state government is bearing the cost of vaccination in this age group, why can't it use its chief minister's picture in the certificates.
The state government has created its portal 'CG Vaccine' for the registration of all the beneficiaries who are vaccinated between the ages of 18 to 44 years. Those who have registered in this regard are getting digital certificates with pictures of Chief Minister Baghel. This portal has offline registration facility for those who do not have smartphone or internet facility. Taking a picture of the Chief Minister in the certificate, the state health minister TS Singhdev said that the cost of vaccinating people between the ages of 18 and 44 is being borne by the state government, so now there is no central program. When it has become a state program, there should be no objection to the picture of the Chief Minister of the state in the certificate. Read more: Antyodaya ration card holders in Chhattisgarh first vaccinate in 18- to 45-year-old age group
Singhdev said the center was providing funds to vaccinate people over the age of 45. Certificates issued to the people of this department have been issued through the Covin portal with the picture of the Prime Minister. Here, the BJP has accused the state government of paying more attention to photo promotion than vaccinating people.
Brijmohan Agrawal, a senior BJP leader in the state, said the entire country was using the Centre's app. This application is working well. However, the state government has launched its app only for giving pictures. The question is whether the certificates issued by the state government will be suitable for foreign travel. Agarwal said the state government was playing with people's lives.
(This is an audited and automatically generated story from a syndicated news feed, most likely not modified or edited by the latest staff)