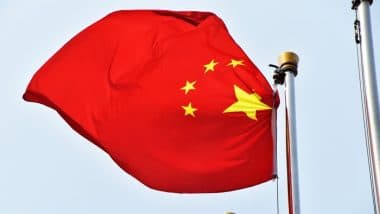 Flag of China (Photo credit: PTI)
Beijing, May 21: China is trying to develop infrastructure in remote villages bordering India, Bhutan and Nepal in Tibet. The information came from a white paper on Tibet published by the Chinese government on Friday. Entitled 'Liberation, Development and Prosperity since 1951', the document states that the strategically important Himalayan region divides the 4,000 km long outer border, making it important to improve the border areas and improve human life in Tibet. The document states that the residents of the surrounding areas live hard lives and work in difficult conditions and there is also high poverty. The government is trying to improve the living standards of the people by developing the border areas at all levels.
The document states that under the direction of the Communist Party, economic allocations for border development in Tibet have been increased year after year. Since President Xi Jinping came to power in 2012, the establishment of new villages has given priority to the development of China's border areas with an additional emphasis on security. The Indo-China border dispute has a 3488 km long Line of Actual Control (LAC). China has claimed Arunachal Pradesh as part of southern Tibet, but India has vehemently rejected its claim.
Also read- Foreign News. Chinese government's recognition of the Dalai Lama's successor: China's White Paper on Tibet
China shares a 477 km long border with Bhutan with a 1389 km border with Nepal. A letter from President Chinfeng to a Tibetan family in Lunje County, near Arunachal Pradesh, in 2017 also outlined the development of border villages and asked them to establish their roots and build their own cities to protect Chinese territory. .
(This is a monitored and automatically generated story from a syndicated news feed, most likely not modified or edited by the latest staff)