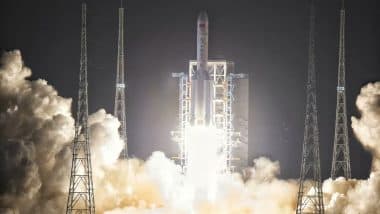 Photo credit: Twitter
New Delhi, May: Neighboring China (China) has suffered a huge blow trying to regain its kingdom in space as well as on land. China launched a 21-ton giant rocket called Long March 5B on April 29, but it went out of control after going into space. According to scientists, the wreckage of this uncontrolled rocket could hit the earth in the early morning of May 8.
The U.S. Department of Defense says we have tracked down China's unmanned rocket. According to satellite trackers it is 100 feet long and 16 feet wide. Howard-based astronomer Jonathan McDowell told Reuters that the satellite currently has routes to New York, Madrid, Beijing, Chile and New Zealand to the north and south. This uncontrolled rocket can land anywhere in this radius.
Also read- Foreign News. China has remained silent about the wreckage of its space rocket
Beyond that, Jonathan McDowell added that most of this China rocket would be destroyed before it came close to Earth, but that if some parts landed in populated areas, it could cause massive destruction. According to Satellite Tracker, the rocket is currently moving towards the earth at a speed of four miles per second.
Currently, this Chinese rocket is orbiting the earth in low-Earth orbit. The neighboring country launched an ambitious rocket on April 29 to build its Tianhe space station.
Also read- Important Information | After recovering from the epidemic, China's trade increased as global demand increased
It is noteworthy that this is not the first time that neighboring China's rockets have become uncontrollable in space. Even before that, the core of the March 5B rocket was out of control. Its wreckage was found in the Atlantic Ocean near the cities of Los Angeles and New York in the United States.