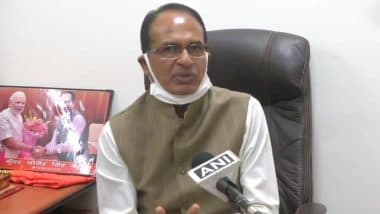 CM Shivraj Singh Chauhan (Photo Credit-ANI)
Bhopal: Madhya Pradesh Chief Minister Shivraj Singh Chouhan on Wednesday said that the corona outbreak is now under control in the state, so the state will gradually open up economic activities from June 1, but the crowds did not gather, so the current 144 will continue in a message issued to the people of Chouhan state. "Today I am pleased to say that corona infection is now under control in the state due to the efforts of everyone," he said. More than 70,000 corona were investigated on Tuesday. Of these, only 2,179 positive cases have been registered and 8,846 have been recovered. The infection rate decreased to 3.1 percent and the infection rate to 93.39 percent.
"The corona curfew is still in effect, but it may not last forever," Chauhan said. We have decided that from June 1 we will gradually open up economic activities. The coronavirus will remain. Thus, activities need to be conducted with complete care. We need to avoid crowds, fairs and organized events. If we don't do this, the infection won't take long to grow and we will get into trouble again. Read more: Madhya Pradesh: 6 deaths so far due to corona virus in Indore, number of infected patients rises to 122
He said, "Corona curfew will be lifted gradually. Disaster management committees at village, ward, block, city and district level will decide which activities will start, what will be open, what will be closed." There will be various arrangements in the district and it will be decided at the local level as well, "Chauhan said. Corona's investigation will also continue. About 75,000 will be investigated every day. Fever clinics will continue, a mobile investigation team will also work.
The advantage of the investigation is that if someone is infected, it will be known immediately. Infected people will be treated separately at home, with a medical kit or at a Covid Care Center. It will not spread the infection. Covid Care Centers will not be closed yet.
(This is a monitored and automatically generated story from a syndicated news feed, most likely not modified or edited by the latest staff)