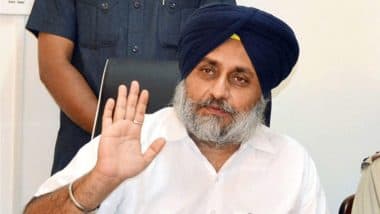 Sukhbir Singh Badal (Photo Credit: PTI)
Chandigarh, June 3: On Thursday, Punjab's opposition Shiromani Akali Dal accused the state Congress government of selling doses of the CVD-19 vaccine to private hospitals at "high prices". Sukhbir Singh Badal, head of the Shiromani Akali Dal, complained in a statement here that doses of the vaccine were not available in the state and that it was being sold to private companies instead of giving free doses to the general public. He claimed that the dose of the vaccine is available in the state at Rs 400 and it is being sold to private companies at Rs 1,060.
Badal said private hospitals were charging people Rs 1,560 for each dose. "A single dose costs between Rs 1,000,000 and Rs 9,000 per family," he said. Badal alleged that in Mohali alone, 35,000 doses were sold to private companies in a single day.
He said it was 'unethical' to 'gain' from vaccines. Badal said, "Rahul Gandhi should be told whether he supports that the Congress government is forcing people to spend Rs 1,560 for a single dose of the vaccine."
Read also- Important information Tagore criticized the Punjab, Rajasthan government for wasting vaccines
In a statement, the SAD called for a high court-supervised inquiry into the matter. However, no comment was received from state health minister Balbir Singh Sidhu and health officials.
(This is a monitored and automatically generated story from a syndicated news feed, probably not edited or edited by the latest staff)