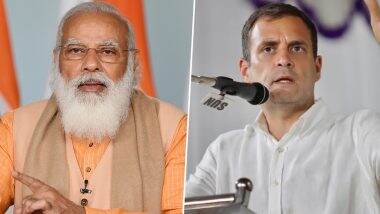 Prime Minister Modi / Rahul Gandhi (Photo: PIB / FB)
New Delhi: Amid reports that people are being arrested for putting up posters against Prime Minister Narendra Modi in the national capital, Congress leader Rahul Gandhi has challenged the government to arrest him. On Sunday, Rahul Gandhi tweeted in the poster, "Arrest me too." Meanwhile, Congress leaders are targeting the government and campaigning on social media. Rahul Gandhi again surrounded Prime Minister Modi and said that the country needs vaccines
Congress leader Pawan Kheda said, "People have lost expectations from the government. When you want all the credit, who will people ask. Why don't people ask why their vaccines have been exported." Sources said on Saturday that Delhi Police had arrested more than a dozen people in registered cases.
The case is related to putting up black posters criticizing the Prime Minister for exporting 19 Covid vaccines to other countries instead of meeting the needs of the people of the country. Posters have been found in many parts of Delhi such as Shahdara, Rohini, Rithala, Dwarka and other places.
Gayatri Garg, Buddha Bihar Ward Councilor, told IANS, "On May 12, we received news that several posters were put up in Buddha Bihar, Vijay Bihar and other areas. Following the information, I removed the posters on May 13 along with my husband and a few other members." Sources said that the police have registered more than 117 FIRs against the Prime Minister in connection with the poster.
The source said that the police have registered four FIRs in central Delhi and arrested four people, two FIRs have been lodged in Rozini and two have been arrested, one in East Delhi and four have been arrested, arrested, one FIR has been lodged in Dwarka. And two have been arrested. An FIR has been registered in North East Delhi and three people have been arrested and one arrested on the basis of an FIR in Shahdara.
The source said police also found CCTV footage from the Shahdara area where people were seen putting up posters. The source further said that the police is interrogating the person to identify the other person. The source further said that people in Shahdara area were paid Rs 500 for pasting three posters.