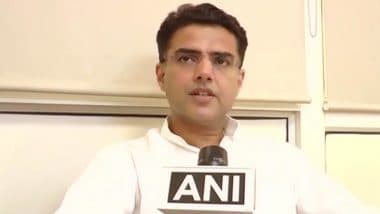 Sachin Pilot (Photo credit: ANI)
Jaipur, May 18: Veteran Congress MLA Hemram Chowdhury, who was included in the camp of former Deputy CM Sachin Pilot, took a new turn in the political story of Rajasthan. He resigned to Joshi. In July last year, the pilot camp led by Chief Minister Ashok Gehlot revolted. However, 19 rebel MLAs have been reinstated after senior Congress leaders, including Priyanka Gandhi Bhadra and the late Ahmed Patel, took steps to resolve the issue. Chowdhury stood with the pilot during the whole rebellion.
Even after the rebel leaders returned to the party, no department was assigned to them and their grievances were not resolved. Chowdhury is constantly raising his voice on neglected issues. Some of the MLAs from the pilot camp also expressed concern over the functioning of the state government in the Assembly. Meanwhile, Chowdhury has requested for the resignation of Speaker Joshi.
Also read- Country News. In Rajasthan, 6,996 new cases of coronavirus infection and 146 deaths have been reported
Rajasthan minister and Congress leader Pratap Khachariwas said it was an internal matter of the party which would be resolved soon. At the same time, BJP state president Satish Punia said that the party (Congress) has been divided since the formation of the Congress government. This is his internal matter. In this moment of crisis in the second wave of the Kovid epidemic, we are trying to save lives.