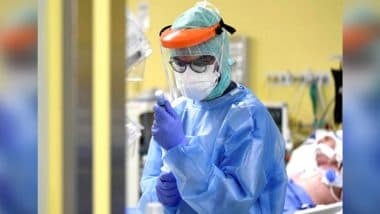 Photo credit ANI
Mumbai: In Maharashtra, Maharashtra received 24,752 new cases of Kovid-19 on Wednesday, bringing the total number of infections in the state to 56,50,907, and the death toll from the infection has risen to 91,341 from more than 453 deaths. The Department of Health (Department of Health) has given the information. The department said 23,0655 patients were discharged from the hospital after recovering in a day, bringing the number of people recovering in the state to 52,44,833.
The number of patients under treatment in Maharashtra now stands at 3,15,042. According to the department, the cure rate of Kovid-19 patients in the state is 92.76 percent and the death rate is 1.622 percent. In the last 24 hours, 2,833,394 people were tested for coronavirus infection, bringing the total number of tested samples in the state to 3,33,24,999. Read more: Corona cases in Pune, Maharashtra have improved in the last 24 hours to 2020 new cases
The department said there were 1,332 new cases of Kovid-19 in Mumbai and 34 people died there, bringing the total number of infections in the metropolis to 7,00,340 and the death toll to 14,684.
(This is a monitored and automatically generated story from a syndicated news feed, most likely not modified or edited by the latest staff)