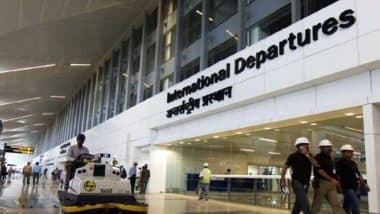 New Delhi: Delhi International Airport (due to a significant drop in the number of aircraft due to the second wave of the global epidemic Coronavirus)International Airport) It has been decided to close the T2 terminal from midnight on Monday. Sources said this information
Sources said all flights from Terminal T3 will operate from midnight on Monday. He said that at present about 325 aircrafts are operating at Delhi airport every day. The plague operated 1,500 flights a day from here before it hit. Delhi: Defense Minister Rajnath Singh launches first batch of DRDO anti-covid drug 2DG
Sources said that the number of passengers at Delhi airport was around 1.15 lakh per day in February, which dropped to about 30,000 per day in the second wave of the epidemic. Delhi Airport has taken this decision at a time when India and its aviation have been badly damaged by the second wave of the epidemic.
According to the Ministry of Civil Aviation, the number of daily domestic passengers in India was more than 2.2 lakh, which has now come down to around 5,000. Similarly, international air traffic has also been affected by the second wave of the epidemic.
It is noteworthy that after the arrival of 2,71,36 new cases of Kovid-19 in India, the number of infected people in the country has increased to 2,499,65,4.3 on Monday. These are the fewest new reports in a single day in the last 27 days. At the same time, after 4,106 deaths from the infection, the death toll has risen to 2,390.
According to an update released by the Union Ministry of Health at 8 am on Monday, 35,116,977 people are currently being treated for coronavirus infection in the country, accounting for 14.09 per cent of the total cases. According to the data, 2,11,74,076 in the country. People have recovered from the infection and the national recovery rate for national patients is 7.61 percent. At the same time, the mortality rate from Covid-19 is 1.10 percent.
(This is an audited and automatically generated story from a syndicated news feed, most likely not modified or edited by the latest staff)