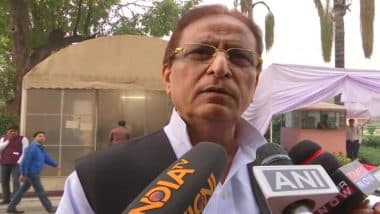 SP MP Azam Khan (Photo Credit – ANI Twitter)
Lucknow: Veteran Samajwadi Party (SP) leader and Rampur MP Mohammad Azam Khan (Azam Khan) was shifted to Kovid ICU of Medanta Hospital here on Monday where he is undergoing treatment under the care of a critical care team. The hospital administration said in a statement on Monday. According to the statement, on May 10, SP MP Azam Khan was in dire need of oxygen (10 liters per minute), so the critical care team at Medanta Hospital in Lucknow shifted him to Kovid ICU where doctors are closely monitoring him. At the same time, Abdullah Khan's condition is stable and satisfactory, he has also been placed under the care of doctors.
A statement issued by the director of Medanta Hospital in Lucknow said that SP MP Mohammad Azam Khan (722) and his son Abdullah Khan (30) were admitted to Medanta Hospital at 9 pm on Sunday due to coronavirus infection. . Veteran Samajwadi Party leader and Rampur MP Mohammad Azam Khan and his former MLA son Abdullah Khan, who contracted the corona virus in Sitapur district jail, were shifted to Medanta Hospital in Lucknow on Sunday. Read more: Uttar Pradesh: Corona-affected SP leader Azam Khan and his son Abdullah shifted to Medanta Hospital in Lucknow for treatment
On Sunday, Medant Hospital director Dr Rakesh Kapoor said that after a preliminary investigation by the hospital, SP MP described the coronavirus as a 'moderate infection' and monitored doctors for treatment over four liters of oxygen. Prior to the installation, a team of doctors from the district hospital, including Sitapur's Chief Medical Officer (CMO) Madhu Garola, examined Azam Khan's health this evening and asked him to take him to Lucknow for better treatment. Believers.
On April 30, an RTR of Azam Khan and his son Abdullah confirmed the veracity of the PCR investigation and informed Sitapur District Jail Deputy Jailor Onkar Pandey that he was infected with the coronavirus. One week ago, the administration advised Azam Khan to take him to King George Medical College in Lucknow for further treatment on May 2, but he refused to leave Sitapur jail.
Azam Khan, along with his son, had been lodged in the Sylhetpur District Jail since February 2020 on charges of land grabbing, snatching and other serious criminal offenses. His MLA wife was granted bail in December 2020.
(This is a monitored and auto-generated story from a syndicated news feed, most likely not modified or edited by recent staff)